BRAND AUDIT
Filos Community Services is a not-for-profit social service organisation. Focusing on building the strengths of the community we live in, they work towards empowering individuals and families to live a more fulfilling, meaningful and happier lives. Tasked with a complete rebranding of Filos, we conducted a comprehensive brand audit to reposition them to be highly relational by enhancing and emphasizing the emotional components of its brand, people and services. Filos' existing logo had been refined to create a cleaner and more balanced form for use across different mediums and sizes. The modified logotype uses a more contemporary serif typeface that retains its humanistic and friendly touch while maintaining a bold and firm expression. It also communicates the symbolic meaning of the original logo within the brand name itself.
BRAND MANUAL
We designed a brand manual for Filos, a guide to applying the brand elements. Filos' brand concept captures their strength to serve as a beacon of light that guides others to thrive in life. Through empathy, encouragement, and compassion, Filos inspires its beneficiaries and volunteers in becoming the best version of themselves. By building up their self-confidence and spirit, the impacted individuals will then be able to inspire others by passing on this spirit of positivity and resilience.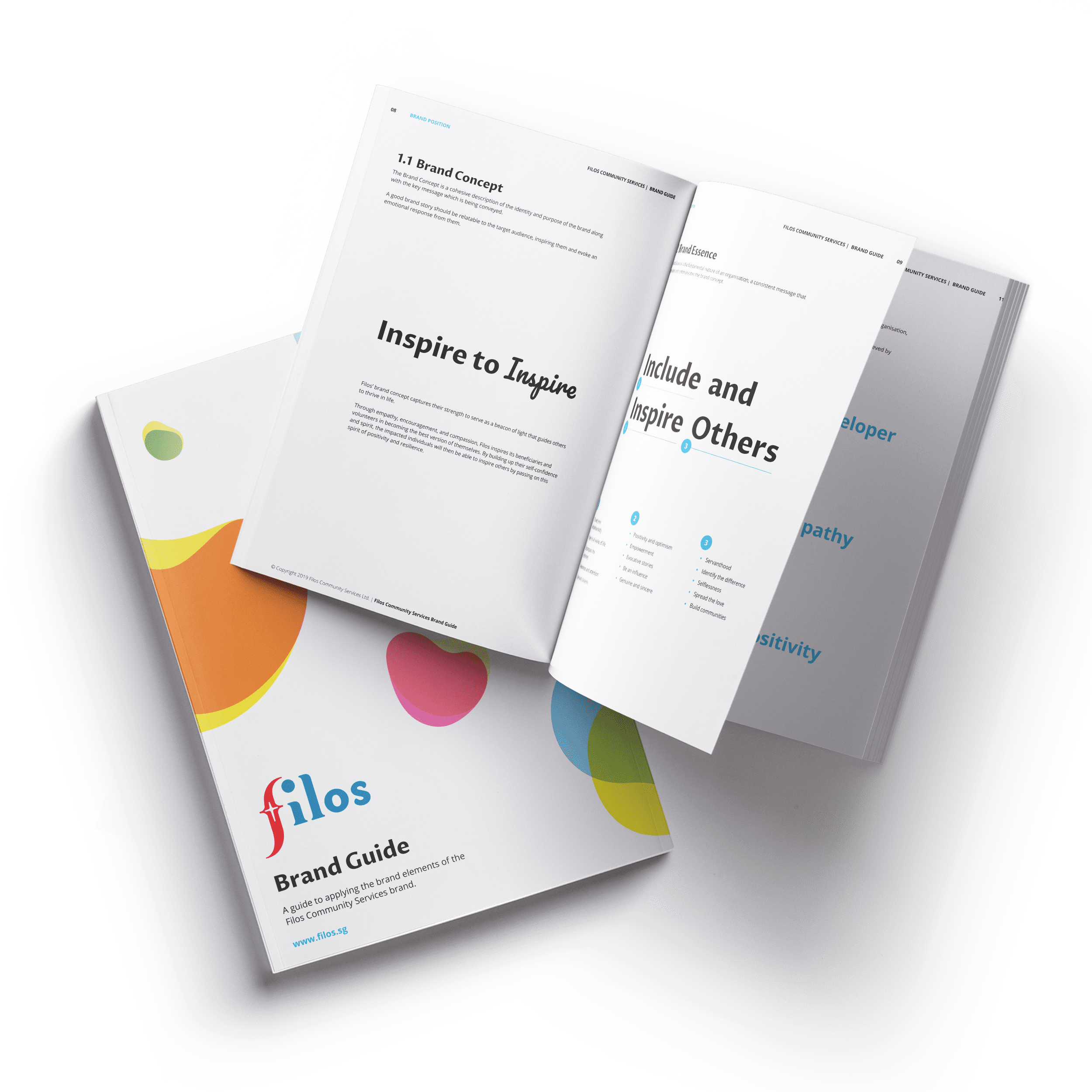 Brand Identity
A set of graphic elements is also designed to facilitate brand recognition and establish a strong brand identity. Graphic and colours play strongly in the title — Inspire to Inspire. The blue circle represents Filos as a seed, with the vision of seeding and planting the Filos seed everywhere. The different colours around the Filos seed represent the impact of Filos empowering different individuals by encouraging and building confidence in them, creating the effect of Filos growing bigger with people that are strong in their strong suit. Filos passes the "inspire to inspire" spirit on. Which inspires every individual are equipped with the positive spirit to inspire more people around them with a rippling and pulsing impact.
BRAND TOUCH POINTS
We developed thoughtful touches throughout Filos' various touchpoints, ranging from corporate stationery, physical and digital marketing collateral, website to video production in congruent with the new brand identity to maintain a consistent brand message and experience that inspire.
"We have implemented a new brand identity to our corporate stationeries, premise, website, marketing collateral and social media channels. We have seen increased brand awareness and now have a strong differentiation factor from others. We are happy now that our referrals have increased, more youths joining Filos as volunteers and we have attracted more corporate partners coming in to support our programmes."
Go Katheleen, Manager, Filos